A pleasure to make your acquaintance! I'm Lusha, and I help marketing professionals save time and meet their goals faster. Today I'll discuss lead generation tools – specifically, ones that will add a lot of value to your lead gen operation but won't cost you a buck.
Lead generation has changed. In the past, a majority of leads came through outbound channels like tradeshows, print and TV advertising, and paid online advertising. Today more and more leads are inbound – obtained by tactics like social media, SEO, and content marketing.
Inbound lead generation is "softer". You'll need finesse and sophistication to get the right prospects into your lead pipeline, qualify them, and nurture them until they become opportunities.
Here are the main types of tools that will help you do that. For each of these categories, I collected the best tools with a free-forever plan to get you started:
Lead capture – forms and other ways to allow users to submit their details.
Landing page platforms – tools that set up attractive pages for incoming leads.
Lead enrichment – tools that provide more data on leads to qualify and segment them.
Email marketing and automation – systems that can help you contact leads with offers and nurture leads to move them closer to a sale.
Live chat and messaging – tools that help you communicate with leads on your site.
Lead Capture Tools
1. Sumo
Sumo is a popular tool offering multiple ways to capture leads on your site. It supports overlay popups, popups embedded in pages, popups that display triggered on user activity, "welcome mats" that load above a page before a user scrolls down, share buttons, and sticky bars at the top or bottom of the page.
Free plan includes: 500 subscribers, basic email integrations
2. OptinMonster
OptinMonster provides lightbox popups, "welcome mats", slide-in scroll boxes, floating bars, inline forms and more, with a drag and drop builder for creatives.
Landing Page Builders
We should note that the most popular landing page platforms, which provide a large number of well-designed templates and tools for A/B testing and optimizing landing pages, are not offered free. A few of the leading services are:
Following are two great landing page builders that are absolutely free.
3. Xtensio
Xtensio is an innovative solution that lets you build website landing pages that can also be displayed as slide decks and documents.
Free plan includes: 1 folio, 8 exports per month
4. Wishpond Landing Page Builder for WordPress
Wishpond is a free WordPress plugin that lets you create landing pages based on over 100 templates. It integrates with all common email marketing apps, as well as SalesForce, Zapier, and Segment, so you can save leads to anywhere you like.
Free plan includes: Unlimited usage
Lead Enrichment Tools
5. Lusha
A critical part of lead generation is getting the right contact details. Our very own tool (yes, named after me ?) can help. Lusha is based on a database of hundreds of millions of business profiles and can help you enrich lead data with accurate emails and direct dial phone numbers.
You can improve conversion rates by asking less of your users – for example, only requiring that they sign in with their LinkedIn account – and rely on Lusha for direct email and phone number. Lusha provides a Chrome Extension, contact API, and SalesForce CRM integration.
Free plan includes: 5 emails and mobile phone numbers per month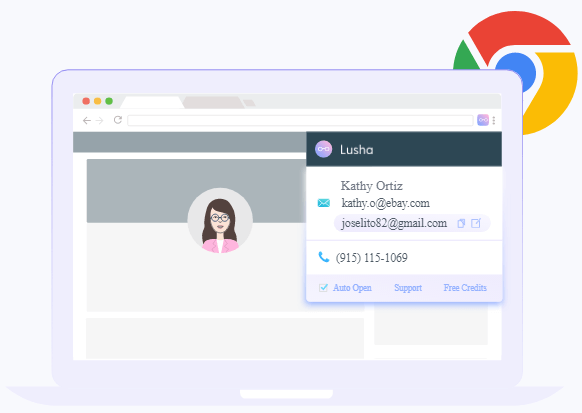 6. Datanyze Chrome Extension
Datanyze analyzes websites and tells you what technologies are being used by the website; revenue, size and other attributes of the company behind the websites, and also contact details of individuals working at the company. An excellent way to discover if a lead with a corporate email works at a relevant company.
Free plan includes: 50 domain lookups and 10 email addresses per month
7. Discover.ly
Discover.ly is a browser extension that gives you valuable details about anyone based on their email – social profiles, recent tweets and Facebook posts, and information from AngelList and Crunchbase. This can help understand if leads signing up on your site are qualified, and which offer might appeal to them.
Free plan includes: Unlimited usage
Email Marketing and Automation Tools
8. MailChimp
MailChimp is a popular email service provider with a famously easy user experience. You can literally start sending nicely-designed emails to segmented lists in minutes. MailChimp has powerful features and recently rolled out full email automation (which is, however, not available on the free plan).
Free plan includes: Up to 2,000 subscribers and 12,000 emails per month
9. Sendinblue
Sendinblue powers marketing email campaigns, transactional emails, and also provides basic marketing automation features. It has one of the most generous free plans of all email service providers.
Free plan includes: 9,900 emails per month, unlimited contacts
10. Leadsius
Leadsius is a full-featured marketing automation platform, including email marketing, automation, web forms, landing pages, lead analysis and reporting, marketing dashboards, and website tracking.
Free plan includes: 250 contacts, one user account, full features
Live Chat and Messaging
Here too, the most popular live chat and messaging tools are not offered free. Some of these are:
Here are two great options for live chat, which have a free forever plan.
11. Drift
Drift is a live chat app that displays a bubble on your site, which visitors can click to talk to your sales or support staff, or to intelligent chatbots. Drift is designed for lead generation and has features that help qualify leads and encourage qualified leads to schedule appointments with your sales team.
Free plan includes: 1 seat and 100 contacts per month
12. Tawk.to
Tawk.to is A completely free site messaging solution, which makes money from providing answering services to select clients. Comes with widgets and cool attention-grabbing bubbles.
Free plan includes: Unlimited use
My Advice: Focus on Quality
Lead generation is growing more sophisticated, and so are the tools that power it. From flexible lead capture via popups, embedded forms and "welcome mats"; to one-click landing page builders; to lead enrichment that uncovers things you never knew about your leads; to email marketing and live chat tools that help you connect with your leads.
In this post, I showcased a few great tools that help with each of these activities and are free to use forever, at least on a small scale. My word of advice – focus on quality. At each part of the lead gen process, from acquisition to lead capture to enrichment, consider how to use the tools to uncover the highest quality leads and deliver them to sales.
There are many creative ways to discover your leads' essential qualities – for example, their pains or use cases, or their budgets. If you manage to deliver those to sales, you'll be a star.
Our solution, Lusha, can help with one part of this effort – getting high-quality emails and phone numbers for contacts, even if they didn't provide them during the lead signup process. Ensuring sales can quickly contact the best leads, every time. Try our free plan today!